To parallel our 51st episode, we cover Area 51.
Dreamland, Groom Lake, Area 51, Paradise Ranch, The Box, Red Square, Watertown Strip. It has many names…the most famous secret military installation in the world.  This base is hidden in plain sight…3 hours north of Las Vegas, NV. It is surrounded by motion detectors, heat sensors and armed security guards, authorized to utilize deadly force to combat prying eyes. What's really going on there?
We hear from filmmaker and investigator Jeremy Corbell, Alien Dave on Dugway Proving Ground, and even have a couple paranormal encounters added by our listeners through the hotline, one having to do with Steven Greer.  An update on Ryan's ghostly activity in his NY apartment, and then move into talk of Groom Lake, Bob Lazar, underground possibilities for super-secret facilities, odd terrestrial aircraft responsible for UFO sightings all the way back to the 50's,  Elon Musk and the Space X explosion,  a UFO darts away from flash of light, a Pyramid spotted at Area 51, vanishing airfields, Yucca Man, and Hidden Cave in Fallon, NV.
Ryan prepping Bob Lazar for his interview: 
Shannon's visit to Rachel, NV. 25 miles outside of Area 51: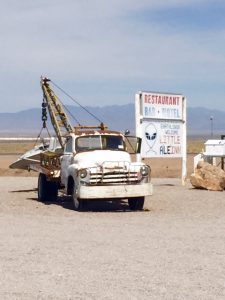 Filmmaker Jeremy Corbell allowed us to use a clip from his film on Area 51: Find Jeremy at his YouTube channel, and his website Extraordinary Beliefs  
Find Alien Dave on his website and Facebook and read about Dugway Proving Ground
Artist Adam Michael's: AdamsArtBox.com  Here is the artwork mentioned titled "Recently Deceased" I purchased…
Todd Neiss: Operation Sea Monkey and AmericanPrimate.org
Find Shawn Jason and ask him about his Megacryometeors project, or his sighting of a black traingle UFO, via his Facebook
Follow iTF:
Facebook: interactive group page and official radio page     
Twitter: Official iTF and Shannon's personal account
Subscribe to iNTO THE FRAY in iTunes, Stitcher, iHeartRadio and most all other podcatchers. If you have a moment to rate and review, we would surely appreciate it.
If you have an encounter or story you'd like to share, don't hesitate to contact me HERE or via email, shannon@intothefrayradio.com.
Browse and purchase Mister-Sam's dark art creations…
Up right now on BigCartel… 'GOAT GIRL' http://mistersamshearon.bigcartel.com/ and RedBubble.com
His website: Mister-Sam.com
Also find him on Facebook, Twitter, Instagram and Tumblr
Check out Sam's new Patreon account where you can pledge at various levels…gaining access to his blog, raffles, exclusive signed prints available NOWHERE else and much more!
Email Sam at: info@mister-sam.com
Find Ryan Sprague on his websites somewhereintheskies.com, RyanDSprague.com, and ThirdKindProductions.com
iNTO THE FRAY has a number to call! Leave us a message with guest and topic suggestions, feedback, or even your own personal story if you'd like!  We would love to hear from you.
Call anytime:  702-997-2007
Music for this episode of iTF provided with permission by: Tanek, Electus, and Floating Cities
Featured image by Doc Searls from Santa Barbara, USA – 2010_08_06_rno-phx-bos_071Uploaded by PDTillman, CC BY 2.0,https://commons.wikimedia.org/w/index.php?curid=11770779