In this episode 40 of iNTO THE FRAY, the intro banter between Sam, Ryan and Shannon includes the supposed  haunting of the movie The Conjuring 2, a UFO disclosure hearing in Canada, and what really transpired for that Bigfoot drone footage from Idaho.
I then speak to Jason Pentrail. He lives in South Carolina and he is my very well-versed contact for this strange states, South Carolina episode. He and I cover Sasquatch, the Bishopville Lizard Man, LeviniaFisher, Blackbeard, Megalodons and other shark species still living today.
Here is the video mentioned of the scientist losing his calf muscle to a shark "nip"
The featured image for this episode is the Megalodon tooth that Jason was kind enough to send me from South Carolina. It is 4.18 inches long and I can tell you, it is very heavy.
Feel free to join Jason's research group on Facebook: Harvest Moon Researcher's
You can now subscribe to iTF on YouTube!
Have a story you'd like to share?  Please don't hesitate to contact me HERE or via email, shannon@intothefrayradio.com
If you'd rather…you can call the iTF message line and leave your story there…
Call 844-866-3366 anytime.
Want to support the show and get more content?  Become an iNSIDER and get more, from well….the iNSIDE!  Only 4.99/month or 54.00 for an entire year.
Click HERE to sign up!
Thursday's show will NOT change…every week, a new episode of iTF will air as usual.
Follow iTF:
Facebook: Join the interactive group and please, like and share my official radio page     
Twitter: Official iTF and Shannon's personal account
Shannon's Instagram
Various iNTO THE FRAY gear available at intothefrayradio.threadless.com
Subscribe to iNTO THE FRAY for free in Spotify, Overcast, iTunes, Stitcher, iHeartRadio and most ALL other podcatchers. If you enjoy the show, please take a moment to rate and review, as it helps others locate the show.  More stories coming in, for you to enjoy!
iNTO THE FRAY is now proudly part of the KGRA Radio Network. Visit kgraradio.com for a complete list of live shows and rebroadcasts of your favorites like…Expanded Perspectives, The Gralien Report, Fade to Black…and more!
You can also visit DarkMyths.org for even more options of Fortean, true crime and paranormal shows.
All artwork and logos by Mister-Sam Shearon
Sam's new, Limited Edition artwork… "IT'S ALIVE!" Click the image to learn more on how to get your own, SIGNED print!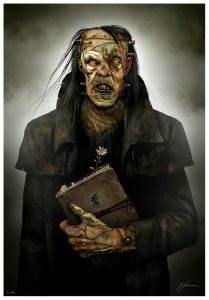 For website info: brett@arrive.agency
Music for this episode of iTF provided with permission by:  Tanek  & Electus