Episode 33 has the crew of iNTO THE FRAY chatting about various topics.
UFO Disclosure with Blink 182 front man Tom Delonge. Black Triangle UFO's seen by my fellow hosts, Civil War sans Superman, Past Lives Phenomena, Steven Greer calling craft in the desert and much more.
News Links and mentions:
Tom Delonge says he's the Conduit for UFO Disclosure
'Left at East Gate' by Peter Robbins
New Evidence May Help Solve Famous Rendlesham UFO Incident
UFO over volcano in Iceland (video)
Here are some shots from Sam: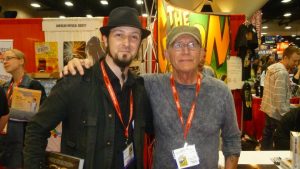 Browse and purchase Mister-Sam's Cryptid and dark art creations: http://mistersamshearon.bigcartel.com/andRedBubble.com
Mister-Sam's napkin doodle's and his FACEBOOK  page.
His website: Mister-Sam.com
Find Ryan Sprague on his website somewhereintheskies.com  
Follow iTF:
Facebook: interactive group page and official radio page   
Twitter: Official iTF and Shannon's personal account
Subscribe to iNTO THE FRAY in iTunes and Stitcher, and if you have a moment to rate and review, we would surely appreciate it.
If you have an encounter or story you'd like to share, don't hesitate to contact me HERE or via email, shannon@intothefrayradio.com.
iNTO THE FRAY has a number to call! Leave us a message with guest and topic suggestions, feedback, or even your own personal story if you'd like!  We would love to hear from you.
Call anytime:  702-997-2007
Music for iTF provided with permission by: Tanek and Electus
Featured image from Sam Shearon's  personal collection, 'napkin doodles' and his particular work 'Encounters with Mash'