Ken Gerhard is a widely recognized cryptozoologist and field investigator for The Centre for Fortean Zoology, as well as a fellow of the Pangea Institute and consultant for several research organizations. He has traveled the world searching for evidence of mysterious animals and legendary beasts including Bigfoot, the Loch Ness Monster, the Chupacabra, enigmatic winged creatures and werewolves. He has been on countless TV, radio shows and podcasts to discuss his travels and research. We discuss his own views on various beasts, his own close encounters, and much more!
Find all of his books on Amazon.  The two books we focus on in this episode are, The Essential Guide to Bigfoot and Encounters with Flying Humanoids.
Visit him on his website and social media accounts…Facebook, Twitter and Instagram and YouTube.
If you love iNTO THE FRAY and want more content….join us over on Patreon! Get instant access to over 100 bonus audio and video episodes, physical rewards like stickers and signed books, watch (and join in the discussion!) Shannon interview guests live on video, private RSS feed, Patron-only Discord room and FB group, and more.
Click HERE to check out the various pledge levels.

You can also contact me HERE or via email, shannon@intothefrayradio.com
Get your iTF STICKERS….HERE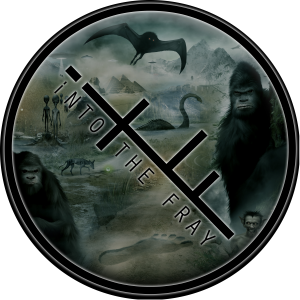 Follow iTF:
Facebook: Join the interactive group and visit the official iTF page 
Twitter: Official iTF and  Shannon's personal account
Shannon's Instagram
Website artwork and logo for iNTO THE FRAY, by Mister-Sam Shearon
Featured music with permission from Tanek, and Electus Official