In Episode 22,  Shannon LeGro, Mister-Sam Shearon and Ryan Sprague first digress for some intro segment fun. We talk movies that will never happen, haunted theaters, messages you can send to space and even Ryan's own experience with the Ouija board.
Jimmy then joins Shannon to tell a frightening encounter he had with his friends in high school, while using a Ouija Board. The encounter that day wasn't the end of the scary experiences for them.
Have you had an experience with a Ouija board? Good or bad…contact us HERE
Via SmithsonianMag.com:
The real history of the Ouija board is just about as mysterious as how the "game" works. Ouija historian Robert Murch has been researching the story of the board since 1992; when he started his research, he says, no one really knew anything about its origins, which struck him as odd: "For such an iconic thing that strikes both fear and wonder in American culture, how can no one know where it came from?"
The Ouija board, in fact, came straight out of the American 19th century obsession with spiritualism, the belief that the dead are able to communicate with the living. Spiritualism, which had been around for years in Europe, hit America hard in 1848 with the sudden prominence of the Fox sisters of upstate New York; the Foxes claimed to receive messages from spirits who rapped on the walls in answer to questions, recreating this feat of channeling in parlors across the state. Aided by the stories about the celebrity sisters and other spiritualists in the new national press, spiritualism reached millions of adherents at its peak in the second half of the 19th century. Spiritualism worked for Americans: it was compatible with Christian dogma, meaning one could hold a séance on Saturday night and have no qualms about going to church the next day. It was an acceptable, even wholesome activity to contact spirits at séances, through automatic writing, or table turning parties, in which participants would place their hands on a small table and watch it begin shake and rattle, while they all declared that they weren't moving it. The movement also offered solace in an era when the average lifespan was less than 50: Women died in childbirth; children died of disease; and men died in war. Even Mary Todd Lincoln, wife of the venerable president, conducted séances in the White House after their 11-year-old son died of a fever in 1862; during the Civil War, spiritualism gained adherents in droves, people desperate to connect with loved ones who'd gone away to war and never come home. The board is tied to both negative experiences as well as positive ones.
If you'd be interested in trying your hand at a Ouija…they can be purchased HERE 
The packaging states: "NEVER use the Ouija board if you think it's just a game."  What do you think?
Find my co-hosts on their pages: Mister-Sam Shearon and Ryan Sprague
If you love iNTO THE FRAY and want more content….join us over on Patreon! Get over 113 bonus episodes, (so far) physical rewards like stickers and signed books, interactive, live-on-video guest interviews and group chats with fellow patrons, private RSS feed, Patron-only Discord room and FB group, and more.
Click HERE to check out the various pledge levels.

You can also contact me HERE or via email, shannon@intothefrayradio.com
Get your iTF STICKERS….HERE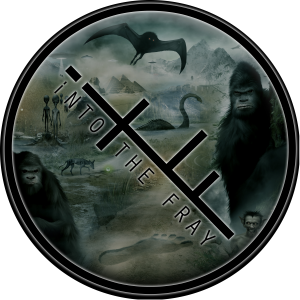 Follow iTF:
Facebook: Join the interactive group and visit the official iTF page 
Twitter: Official iTF and  Shannon's personal account
Shannon's Instagram
Website artwork and logo for iNTO THE FRAY, by Mister-Sam Shearon
Intro music with permission from Tanek
Outro music provided with permission from  Electus Official