In episode 20, we hear from Kris. This is a Sasquatch encounter he has never shared publicly.
He had a very close Sasquatch encounter at 12 years of age, while hunting alone in Wisconsin. What happens if you come between a Sasqua and it's prey?   Different outcomes run through your mind when you hear him tell it. This made his blood run cold and filled him with complete terror, but he found a way to keep going out in the woods. He has only had that feeling of total fear one other time in his life. We talk about both tonight.
Prior to hearing Kris' encounter, Ryan Sprague joins me to talk The X-Files, a terrifying Black Eyed Children encounter, and a great update on the Kickstarter campaign for the upcoming production, Boggy Creek Monster.
Links:
Boggy Creek Monster Kickstarter and watch Minerva Monster, their first film HERE
Week in Weird: Witness Report: "I Let the Black Eyed Children Into My Home, and Now I'm Slowly Dying"
Visit Ryan Sprague on his website: SomewhereintheSkies
If you love iNTO THE FRAY and want more content….join us over on Patreon! Get over 113 bonus episodes, (so far) physical rewards like stickers and signed books, interactive, live-on-video guest interviews and group chats with fellow patrons, private RSS feed, Patron-only Discord room and FB group, and more.
Click HERE to check out the various pledge levels.

You can also contact me HERE or via email, shannon@intothefrayradio.com
Get your iTF STICKERS….HERE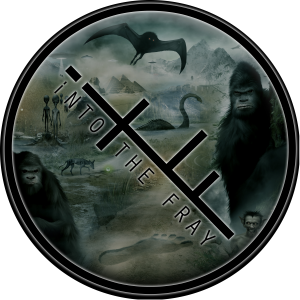 Follow iTF:
Facebook: Join the interactive group and visit the official iTF page 
Twitter: Official iTF and  Shannon's personal account
Shannon's Instagram
Website artwork and logo for iNTO THE FRAY, by Mister-Sam Shearon
Intro music with permission from Tanek
Outro music provided with permission from  Electus Official
Image for this episode via Pixabay.com