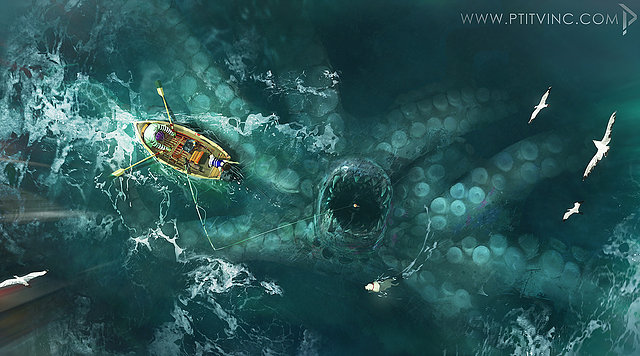 Max Hawthorne is back! We talk about sightings of massive Octopus, aka Kraken, in different locations around the globe. For this episode? "You're gonna need a bigger boat…"
Find Max on his new website, Facebook, and Twitter.
Purchase his award-winning, paleo-fiction books on Amazon, or anywhere fine books are sold!
As mentioned in the show:
High-speed Japanese Tour Boat Hits Unknown Creature
Artist, Charles R. Knight
If you'd rather leave your encounters on the iTF Hotline, call toll-free anytime.
877-317-9111
You can hear Shannon as a guest host on Midnight in the Desert! Go to midnightinthedesert.com for more information. You can listen to MITD live for free…Mon-Fri 9pm-Midnight PST.
Subscribe to iTF on YouTube!
Have a story you'd like to share?  Please don't hesitate to contact me HERE or via email, shannon@intothefrayradio.com
Want to support the show and get more content?  Become an iNSIDER and get more, from well….the iNSIDE!  Only 4.99/month or 54.00 for an entire year.
Click HERE to sign up!
Follow iTF:
Facebook: Join the interactive groupand please hit like and that share button, on my official radio page 
Twitter: Official iTFand Shannon's personal account
Shannon's Instagram
Various iNTO THE FRAY gear available at intothefrayradio.threadless.com
Subscribe to iNTO THE FRAY for free in Spotify, Overcast, iTunes, Stitcher, iHeartRadio and most ALL other podcatchers. If you enjoy the show, please take a moment to rate and review, as it helps others locate iNTO THE FRAY.  That means more encounter stories for you to enjoy!
iNTO THE FRAY is proudly part of the KGRA Radio Network. Visit kgraradio.com for a complete list of live shows and rebroadcasts of your favorites like…Expanded Perspectives, The Gralien Report, Fade to Black…and more!
You can also visit DarkMyths.org for even more options of Fortean, true crime and paranormal shows.
All artwork and logos by Mister-Sam Shearon
Music for this episode of iTF provided with permission by:  Tanek & Electus
Featured image by artist, Vincent Lefevre via his DeviantArt page. Visit his website, and like his page on Facebook!