Savannah, GA has long been labeled as one of the most haunted cities in America, and the undead are said to be very much alive here. Tales of wars, murders and voodoo are saturated within this beautiful southern city.
We first discuss a few oddities Mister-Sam and I found from Georgia, and then move to an interview with Christopher Soucy, a man who has been studying ghosts and hauntings since he was a child. He tells of the terrifying experience that started him down this path, his thoughts on the subject of hauntings, it's investigations, and also of his haunted tour through Savannah itself, which Ryan was lucky enough to go on while visiting.
News and stories from this episode:
Altie the Georgia lake cryptid
Find my co-hosts:
Mister-Sam's Creature Sketches
Mister-Sam's napkin doodle's and his FACEBOOK  page.
Ryan Sprague can be found on somewhereintheskies.com  and his new article on Jim Harold's Paranormal Braintrust, 'Dying To Impress'   (Illusions that Permanently Disappeared their Creators)
If you love iNTO THE FRAY and want more content….join us over on Patreon! Get over 113 bonus episodes, (so far) physical rewards like stickers and signed books, interactive, live-on-video guest interviews and group chats with fellow patrons, private RSS feed, Patron-only Discord room and FB group, and more.
Click HERE to check out the various pledge levels.

You can also contact me HERE or via email, shannon@intothefrayradio.com
Get your iTF STICKERS….HERE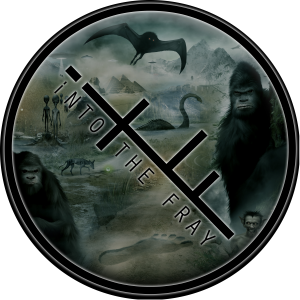 Follow iTF:
Facebook: Join the interactive group and visit the official iTF page 
Twitter: Official iTF and  Shannon's personal account
Shannon's Instagram
Website artwork and logo for iNTO THE FRAY, by Mister-Sam Shearon
Music for iTF provided with permission by: Tanek, Imagined Herbal Flows and Electus.