Episode 16 takes Sam, Ryan and I to Washington, talking about Hillary's interest in UFO's and what she'd like to do with the possible long hidden information, if elected.  The Russian Serial Killer dubbed, Grannyball Lecter; a 68 year old woman who kills and eats (guess her favorite part) not only her friends, but possibly even her husband along with up to 20 others. And, could it be a dinosaur? A large fish? What are people seeing in a North Carolina lake.
We then travel to the beautiful and expansive Adirondacks, in NY State. Dave and Pam Gibson were kind enough to join me and tell of their possible Sasquatch experiences on the property they own. As of late, the activity has even gotten as close as the front door.  We talk of sightings and sounds, a dangerous close call for Dave that is very suspicious if an accident, and the name the natives have for….well, maybe Sasquatch.
Dave Gibson's book available on LuLu.com now, soon to be on Amazon and Barnes and Noble: Living Among Sasquatch: A Primer by Dave Gibson 
Photos shared with me from the Gibson's:
News from this episode:
Park Ranger and Clerk Spot Nessie-Like Creature in North Carolina
Granny Ripper May Have Eaten Her Victims
Find Mister-Sam Shearon HERE and Ryan Sprague on his website, somewhereintheskies.com  
If you love iNTO THE FRAY and want more content….join us over on Patreon! Get over 113 bonus episodes, (so far) physical rewards like stickers and signed books, interactive, live-on-video guest interviews and group chats with fellow patrons, private RSS feed, Patron-only Discord room and FB group, and more.
Click HERE to check out the various pledge levels.

You can also contact me HERE or via email, shannon@intothefrayradio.com
Get your iTF STICKERS….HERE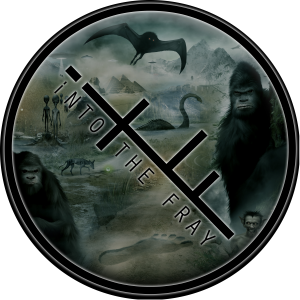 Follow iTF:
Facebook: Join the interactive group and visit the official iTF page 
Twitter: Official iTF and  Shannon's personal account
Shannon's Instagram
Website artwork and logo for iNTO THE FRAY, by Mister-Sam Shearon
Intro music with permission from Tanek
Outro music provided with permission from  Electus Official
Image by Valiphotos from Pixabay