International Cryptid hunter, Daniel Antal is back on iTF! He has recently been on expeditions in Sumatra and the Himalayas. We talk Yeti, Jungle Giants aka "The Tall Ghosts", the Rock Apes of Vietnam, and more. He has provided pictures from his travels, but feel free to visit his website for full details on these expeditions.
Daniel Antal's Blog: Hominid-Hunter.blogspot.com
Terms from this episode:
Sokpa – name of the Yeti in the Makalu Region. The term is of Rai origin, but is used by the Sherpas of the area. It is believed that there are 2 types of Sokpa. (human-sized and giant )
Thelma– common name for the pygmy Yeti
Suku Mante – Hobbits of northern Sumatra
Malaysian Bigfoot
– Orang Dalam (person of the interior)
– Orang Mawas (monkey/primate/primitive person)
Sumatran  Bigfoot
–Orang Gadang (big person)
–Orang Tinggi (tall person)
–Hantu Tinggi (tall ghost)
– Orang Mawas
Orang Pendek
–Tirraw (its name at the Lake Seven Peaks)
–Orang Pendek Kaki Terbalik (short person with feet turned around)
If you love iNTO THE FRAY and want more content….join us over on Patreon! Get instant access to over 100 bonus audio and video episodes, physical rewards like stickers and signed books, watch (and join in the discussion!) Shannon interview guests live on video, private RSS feed, Patron-only Discord room and FB group, and more.
Click HERE to check out the various pledge levels.

You can also contact me HERE or via email, shannon@intothefrayradio.com
Get your iTF STICKERS….HERE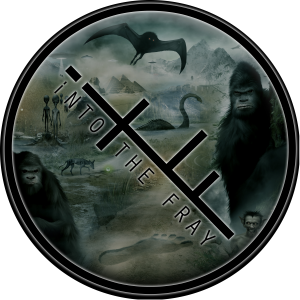 Follow iTF:
Facebook: Join the interactive group and visit the official iTF page 
Twitter: Official iTF and  Shannon's personal account
Shannon's Instagram
Website artwork and logo for iNTO THE FRAY, by Mister-Sam Shearon
Featured music with permission from Tanek, and Electus Official
Spoken intro by Clinton Granberry of OK Talk Podcast