On this episode, we travel to one of my favorite places. Salt Fork State Park located in Ohio. This is the location of many scary sightings (even one promoted on a TV show) and unexplained sounds possibly attributed to Sasquatch. Tonight, I speak to Eric and Mike. They spend hundreds of hours a year at this State Park, even throughout the winter and have evidence to back up their claims that Sasqua is not only in existence, but thriving in the Buckeye State.  Listen to their experiences and sightings in this episode dedicated to the Grassman. Sam and I also discuss various interesting bits including moon conspiracies and Art Bell's departure from radio, yet again.
The photos shared with me from Mike and Eric as discussed in this episode: (click to enlarge)
One of the first published (in a Michigan newspaper) reports of a Sasquatch, Wild-Man or Grassman was in Gallipolis, Ohio in January, 1869. A man and his daughter were riding in a carriage when a "Wild-Man" attacked the father knocking him out of their carriage and holding him in a vice-like grip. The daughter was said to have taken up a large rock, hurling it at the creature's head. Though not injured, the creature was said to have calmly departed the area, leaving the frightened duo alone.
New's from this episode:
Art Hangs it up for the Last Time
Check out the UFOModPod Podcast!
Find Sam Shearon on Facebook and Ryan Sprague on somewhereintheskies.com
If you love iNTO THE FRAY and want more content….join us over on Patreon! Get over 113 bonus episodes, (so far) physical rewards like stickers and signed books, interactive, live-on-video guest interviews and group chats with fellow patrons, private RSS feed, Patron-only Discord room and FB group, and more.
Click HERE to check out the various pledge levels.

You can also contact me HERE or via email, shannon@intothefrayradio.com
Get your iTF STICKERS….HERE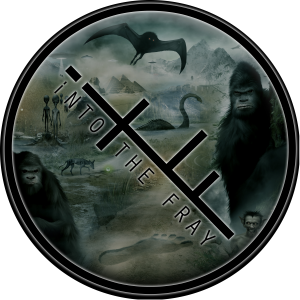 Follow iTF:
Facebook: Join the interactive group and visit the official iTF page 
Twitter: Official iTF and  Shannon's personal account
Shannon's Instagram
Website artwork and logo for iNTO THE FRAY, by Mister-Sam Shearon
Intro music with permission from Tanek
Outro music provided with permission from  Electus Official