From out of body experiences, a salute from a dead veteran, intuitions about diagnosis' when the symptoms don't match, and more.
Dr. Scott Kolbaba began his journey in the medical profession in 1971. In all those years, he has come across many doctors willing to share stories of unexplained events happening to their patients, and to themselves. And so, this book was born. Doctors can (rightfully) be a highly guarded group, but Scott has collected some truly miraculous tales from some of the top physicians in the country!
Visit Dr. Kolbaba on his WEBSITE
Purchase Physicians' Untold Stories to read all the tales from the doctors!
Have a story for Dr. Kolbaba? Contact him through his website or at:
Untold Stories
P.O. Box 4407
Wheaton, IL 60189
You can now subscribe to iTF on YouTube!
Have a story you'd like to share?  Please don't hesitate to contact me HERE or via email, shannon@intothefrayradio.com
If you'd rather…you can call the iTF message line and leave your story there…
Call 844-866-3366 anytime.
Want to support the show and get more content?  Become an iNSIDER and get more, from well….the iNSIDE!  Only 4.99/month or 54.00 for an entire year.
Click HERE to sign up!
Thursday's show will NOT change…every week, a new episode of iTF will air as usual.
Follow iTF:
Facebook: Join the interactive group and please, like and share my official radio page     
Twitter: Official iTF and Shannon's personal account
Shannon's Instagram
Various iNTO THE FRAY gear available at intothefrayradio.threadless.com
Subscribe to iNTO THE FRAY for free in Spotify, Overcast, iTunes, Stitcher, iHeartRadio and most ALL other podcatchers. If you enjoy the show, please take a moment to rate and review, as it helps others locate the show.  More stories coming in, for you to enjoy!
iNTO THE FRAY is proudly part of the KGRA Radio Network. Visit kgraradio.com for a complete list of live shows and rebroadcasts of your favorites like…Expanded Perspectives, The Gralien Report, Fade to Black…and more!
You can also visit DarkMyths.org for even more options of Fortean, true crime and paranormal shows.
All artwork and logos by Mister-Sam Shearon
Sam's new, Limited Edition artwork… "IT'S ALIVE!" Click the image to learn more on how to get your own, SIGNED print!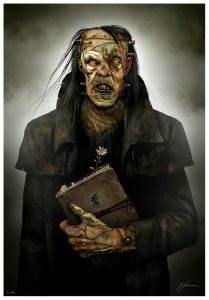 For website info: brett@arrive.agency
Music for this episode of iTF provided with permission by:  Tanek  & Electus
Spoken intro by Clinton Granberry of OK Talk Podcast