Powered by RedCircle
March proved to be a very active month for the paranormal and unexplained overlords we occasionally dance with on this side…
Some of the iNSIDERS and I cover a recent, dark visitor to a FL home who leaves phantom footprints, takes to tormenting the owner, and is constantly pacing the woods that shadow it. A massive flying creature was witnessed, that cannot readily be identified. Brennan Storr pops in to talk about oddities in the Ghost Story Guys Podcast studio…and, about chimes.
Thanks to Vance Nesbitt and Victoria for providing the photos that accompany their tales.
Full article on the flying creature seen via Phantoms and Monsters
The Existence of Strange Things
You can now subscribe to iTF on YouTube!
Have a story you'd like to share?  Please don't hesitate to contact me HERE or via email, shannon@intothefrayradio.com
If you'd rather…you can call the iTF message line and leave your story there…
Call 844-866-3366 anytime.
Want to support the show and get more content?  Become an iNSIDER and get more, from well….the iNSIDE!  Only 4.99/month or 54.00 for an entire year.
Click HERE to sign up!
Thursday's show will NOT change…every week, a new episode of iTF will air as usual.
Follow iTF:
Facebook: Join the interactive group and please, like and share my official radio page     
Twitter: Official iTF and Shannon's personal account
Shannon's Instagram
Various iNTO THE FRAY gear available at intothefrayradio.threadless.com
Subscribe to iNTO THE FRAY for free in Spotify, Overcast, iTunes, Stitcher, iHeartRadio and most ALL other podcatchers. If you enjoy the show, please take a moment to rate and review, as it helps others locate the show.  More stories coming in, for you to enjoy!
iNTO THE FRAY is now proudly part of the KGRA Radio Network. Visit kgraradio.com for a complete list of live shows and rebroadcasts of your favorites like…Expanded Perspectives, The Gralien Report, Fade to Black…and more!
You can also visit DarkMyths.org for even more options of Fortean, true crime and paranormal shows.
All artwork and logos by Mister-Sam Shearon
Sam's new, Limited Edition artwork… "IT'S ALIVE!" Click the image to learn more on how to get your own, SIGNED print!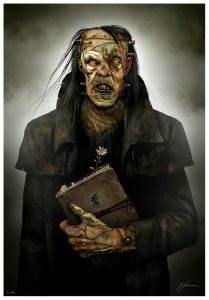 For website info: brett@arrive.agency
Music for this episode of iTF provided with permission by:  Tanek  & Electus
Spoken intro by Clinton Granberry of OK Talk Podcast