Powered by RedCircle
We touch once again on not only a serial killer, but Anthony Sowell, aka "The Cleveland Strangler." A new documentary by filmmaker, Laura Paglin highlights the victims that survived the unspeakable, at the hands of a demented and tortuous person. She not only interviews some of the survivors of these horrific attacks, but the family members of those who did not make it out of Sowell's house alive.
Watch UNSEEN and find out more information, including all ways to watch…on the website.
My previous episode on Anthony Sowell with author, Robert Sberna can be heard HERE and purchase Robert's book, 'House of Horrors' on Amazon.
This episode of iNTO THE FRAY is brought to you by Ziprecruiter, and right now, my listeners can try Ziprecruiter for FREE! Go to ziprecruiter.com/fray 
You can now subscribe to iTF on YouTube!
Have a story you'd like to share?  Please don't hesitate to contact me HERE or via email, shannon@intothefrayradio.com
If you'd rather…you can call the iTF message line and leave your story there…
Call 844-866-3366 anytime.
Want to support the show and get more content?  Become an iNSIDER and get more, from well….the iNSIDE!  Only 4.99/month or 54.00 for an entire year.
Click HERE to sign up!
Thursday's show will NOT change…every week, a new episode of iTF will air as usual.
Follow iTF:
Facebook: Join the interactive group and please, like and share my official radio page     
Twitter: Official iTF and Shannon's personal account
Shannon's Instagram
Various iNTO THE FRAY gear available at intothefrayradio.threadless.com
Subscribe to iNTO THE FRAY for free in Spotify, Overcast, iTunes, Stitcher, iHeartRadio and most ALL other podcatchers. If you enjoy the show, please take a moment to rate and review, as it helps others locate the show.  More stories coming in, for you to enjoy!
iNTO THE FRAY is now proudly part of the KGRA Radio Network. Visit kgraradio.com for a complete list of live shows and rebroadcasts of your favorites like…Expanded Perspectives, The Gralien Report, Fade to Black…and more!
You can also visit DarkMyths.org for even more options of Fortean, true crime and paranormal shows.
All artwork and logos by Mister-Sam Shearon
Sam's new, Limited Edition artwork… "IT'S ALIVE!" Click the image to learn more on how to get your own, SIGNED print!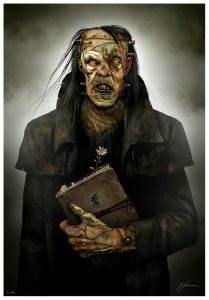 For website info: brett@arrive.agency
Music for this episode of iTF provided with permission by:  Tanek  & Electus
Spoken intro by Clinton Granberry of OK Talk Podcast
A special thanks to Jeremy Enfinger for the liner!
This episode of iTF brought to you by Ziprecruiter. My listeners can try Ziprecruiter FOR FREE. Go to https://www.ziprecruiter.com/fray
Images provided by Laura Paglin