Dustin Duncan of the show, Crypto PTSD joins me to talk about his personal encounters with Bigfoot around his stepdad's property in Missouri. These creatures got close enough to slap the house, peek in windows, and even execute speech while in earshot of the family inside. These incidents were initially thought of as a "large drunk man," who was trespassing…and they in response, would go outside armed to confront this person.
From a sighting in the long driveway, to the mysterious disappearance of the guts from a fresh deer kill…these were incredible, and up-close experiences.
Find Dustin on YouTube, iTunes and email him at cryptoptsd@gmail.com
If you love iNTO THE FRAY and want more content….join us over on Patreon! Get over 113 bonus episodes, (so far) physical rewards like stickers and signed books, interactive, live-on-video guest interviews and group chats with fellow patrons, private RSS feed, Patron-only Discord room and FB group, and more.
Click HERE to check out the various pledge levels.

You can also contact me HERE or via email, shannon@intothefrayradio.com
Get your iTF STICKERS….HERE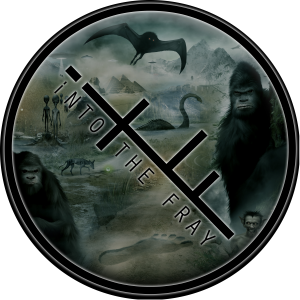 Follow iTF:
Facebook: Join the interactive group and visit the official iTF page 
Twitter: Official iTF and  Shannon's personal account
Shannon's Instagram
Website artwork and logo for iNTO THE FRAY, by Mister-Sam Shearon
Intro music with permission from Tanek
Outro music provided with permission from  Electus Official