Massive, prehistoric creatures that still exist in the deepest parts of the ocean? In truth, we know astonishingly little about our worlds oceans. Max Hawthorne studies and writes about what giants may be lurking beneath the waves. We talk about a number of very interesting and credible accounts, even one had by a number of people in 2014, from the deck of a Carnival Cruise line.
The "Prince of Paleo-Fiction," Max Hawthorne grew up in Philadelphia, where he graduated with a BA from Central High School and a BFA from the University of the Arts. He is the author of MEMOIRS OF A GYM RAT, an outrageous exposé of the health club industry, as well as the KRONOS RISING novel series. To date, both of his full-length novels, Kronos Rising and Kronos Rising: Kraken, have been awarded Book of the Year by Prehistoric Times Magazine and Geek Ireland's People's Choice Awards, respectively. In addition to being a bestselling author, he is a voting member of the Author's Guild, an IGFA world-record-holding angler, and an avid sportsman and conservationist. His hobbies include fishing, boating, and the collection of fossils and antiquities. He lives with his family and an impossibly large rabbit in the Greater Northeast.
Kronos Rising: Diablo is also now available
Visit Max Hawthorne on his website
Links from this episode:
Did a Living Mosasaur Stalk the Ship? 
Mysterious Creature Washes Ashore in the Philippines
If you love iNTO THE FRAY and want more content….join us over on Patreon! Get over 113 bonus episodes, (so far) physical rewards like stickers and signed books, interactive, live-on-video guest interviews and group chats with fellow patrons, private RSS feed, Patron-only Discord room and FB group, and more.
Click HERE to check out the various pledge levels.

You can also contact me HERE or via email, shannon@intothefrayradio.com
Get your iTF STICKERS….HERE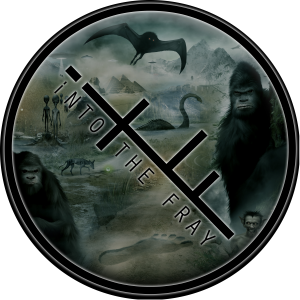 Follow iTF:
Facebook: Join the interactive group and visit the official iTF page 
Twitter: Official iTF and  Shannon's personal account
Shannon's Instagram
Website artwork and logo for iNTO THE FRAY, by Mister-Sam Shearon
Intro music with permission from Tanek
Outro music provided with permission from  Electus Official
Featured image via Max Hawthorne's website