Pam, who called in on episode 100, joins me for a more in depth look at her experiences with what she considers, the Fae. She also shares other encounters with them…and for the most part, they are not the friendly and only semi-mischievous creatures some would have you believe.
If you would like to get a hold of Pam…her email address is faeinfo2017@gmail.com
Links for this episode:
Paul Devereux's- 'Fairy Paths and Spirit Roads'
Reading list about the Fae put together by Pam…
'Lady Gregory's Complete Irish Mythology' by lady Gregory ( it has the invasion
legends included )
www.maryjones.us/texts/: this site gives you online translations but it's somewhat
hard to digest unless your really into this like myself. The oldest books available in
Ireland, at your fingertips.
'Visions and Beliefs in the West of Ireland' by Lady Augusta Gregory this is early 19th
century folklore she collected traveling around Ireland a lot of fairy lore and encounters included
'The Fairy Faith in Celtic Countries' by W.Y. Evans Wentz
'The Celtic Twilight' & 'The Fairy Stories of Hidden Ireland' by W.B. Yeats
'Field Guide to the Little People' by Nancy Arrowsmith
– If you only get one…pick this: 'Meeting the Other Crowd the Fairy Stories of Hidden
Ireland by Eddie Lenihan and Carolyn Eve Green ( this old guy still goes around
today collecting tales of the other crowd, and there's no cute fairy encounters in his
book)
If you love iNTO THE FRAY and want more content….join us over on Patreon! Get over 113 bonus episodes, (so far) physical rewards like stickers and signed books, interactive, live-on-video guest interviews and group chats with fellow patrons, private RSS feed, Patron-only Discord room and FB group, and more.
Click HERE to check out the various pledge levels.

You can also contact me HERE or via email, shannon@intothefrayradio.com
Get your iTF STICKERS….HERE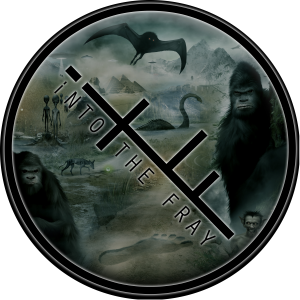 Follow iTF:
Facebook: Join the interactive group and visit the official iTF page 
Twitter: Official iTF and  Shannon's personal account
Shannon's Instagram
Website artwork and logo for iNTO THE FRAY, by Mister-Sam Shearon
Intro music with permission from Tanek
Outro music provided with permission from  Electus Official
Additional music by Robot Monster