My good friends Seth Breedlove and Brandon Dalo join me for this edition of iTF.  Seth and Brandon are producing a series of documentaries on….small town monsters.  Their first, Minerva Monster is about a family who had very close encounters with a creature on their Minerva, Ohio property in 1978. Even the local sheriff got involved with the story and to this day, the family has stuck by what they saw. Minerva Monster now available on Vimeo.
Their second undertaking will be Beast of Whitehall.
August, 1976: Three teens driving on an isolated stretch of road somewhere in the Adirondacks of  Upstate New York have a brush with a bizarre creature. Standing over 7 feet tall and covered in hair, they referred to it as a "beast". Hours later, Abair Road was crawling with local and state police. Many of them recounted seeing the creature, as well.  As the weeks and months passed more individuals came forward with their own sightings. The "Abair Incident" became the impetus for a rash of sightings around the town of Whitehall that continue to this day. Today, Whitehall is frequently referred to as "the Bigfoot Capitol of the East Coast".
Also soon to be in production from the Small Town Monsters crew, Boggy Creek Monster.  In association with Lyle Blackburn, who has spent more time in Fouke, Arkansas than any other investigator.
Find Lyle's book- 'The Beast of Boggy Creek: The True Story of the Fouke Monster'  HERE.
Visit Small Town Monsters:
Facebook, Twitter and Instagram
Composer, Brandon Dalo's SoundCloud
Contact Seth Breedlove via saswhatmail@gmail.com and check out all the episodes of SasWhat: A Podcast About Bigfoot! 
If you love iNTO THE FRAY and want more content….join us over on Patreon! Get instant access to over 100 bonus audio and video episodes, physical rewards like stickers and signed books, watch (and join in the discussion!) Shannon interview guests live on video, private RSS feed, Patron-only Discord room and FB group, and more.
Click HERE to check out the various pledge levels.

You can also contact me HERE or via email, shannon@intothefrayradio.com
Get your iTF STICKERS….HERE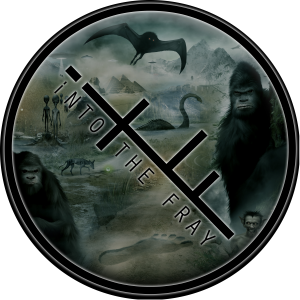 Follow iTF:
Facebook: Join the interactive group and visit the official iTF page 
Twitter: Official iTF and  Shannon's personal account
Shannon's Instagram
Website artwork and logo for iNTO THE FRAY, by Mister-Sam Shearon
Featured music with permission from Tanek, and Electus Official