Mister-Sam Shearon rounds out my team for iNTO THE FRAY. He encouraged me throughout the process of creating the show and is also the brainchild behind my logos, artwork and upcoming merchandise. I am lucky to call him a friend as well as a colleague and will be joining us on our many adventures down the rabbit hole. He has had many interesting personal experiences, a few of which we touch on in this episode. P.S. Send me the emails about your anomalous, large insect sightings. You'll understand why later. But first, Ryan and I discuss big Interstellar news, and then touch on a flying humanoid report out of PA.
Sam Shearon (born 15 March 1978), also known under the pseudonym Mister-Sam and credited as published also sometimes as Mister Sam Shearon is an English dark artist born in Liverpool, England. Specialising in horror and science-fiction, his work often includes elements inspired by vintage tales of monsters and madmen, dark futures, post apocalyptic genres and classic literature including H.P.Lovecraft's The Call of Cthulhu, Oscar Wilde's The Picture of Dorian Gray and the modern classics Clive Barker's Hellraiser and the Books of Blood all of which he has fully illustrated.
Shearon's main influences stem from ancient cultures, the occult, industrial/art/revolution-eras, the supernatural, the paranormal, cryptozoology and the unexplained. Shearon has created covers for comic books and graphic novels including Clive Barker's HELLRAISER, Judge Dredd, The X-Files, Mars Attacks, 30 Days of Night, Angel, KISS, and Clive Barker's Books of Blood and album sleeve artwork and merchandise designs for some of the biggest names in rock music, such as Godhead, Ministry, Rob Zombie, Iron Maiden, A Pale Horse Named Death, Powerman 5000, Biohazard, American Head Charge, Rammstein, Jason Charles Miller, Fear Factory and Kill Devil Hill.
His work has been described by the British press as "bizarre", "grotesque", "gruesome", and "groundbreaking". Shearon is known for his work in the field of cryptozoology, most notably for compiling artists impressions, of the Beast of Lytham from eyewitness accounts. Shearon's cryptozoological art was on display at the 2005 Weird Weekend, an annual conference at the Centre for Fortean Zoology. His work can be found in publications of the Fortean Times, Paranormal Magazine as well as the cover artwork for IDW Comics for the Angel series, 30 Days of Night, The X-Files, Alan Roberts Wire Hangers, H.P.Lovecraft's The Call of Cthulhu, KISS, Mars Attacks, Judge Dredd, Hellraiser and Clive Barker's Books of Bloodand also horror magazine Fangoria's Trinity of Terrors. Shearon provided cover art for the official collectors programme to a Halloween weekend event featuring the rock/metal band Slipknot depicting a portrayal of their lead singer Corey Taylor.
Shearon has created artwork for a variety of rock and metal music related clients including Jason Charles Miller, Godhead: At the Edge of the World, Mina Caputo, Ryan Oldcastle, HIM, Shane Gibson's stOrk featuring Thomas Lang, A Pale Horse Named Death – (featuring members of both Type O Negative and Life of Agony), Iron Maiden, Fear Factory, Rammstein, Biohazard, Black Water Rising, Ministry, Kill Devil Hill, Powerman 5000, American Head Charge and Rob Zombie. Shearon's artwork can also be found in the form of graphics on the bodies of guitars, carry cases, drum skins and merchandise. Clients include Pro Tone Pedals, Coffin Case, ESP Guitars, Dean Guitars and Schecter Guitar Research.
Available for: Dark-Portraits, Book Jackets, Comic Covers, Album sleeve artwork, CD/DVD, Tour Posters, Logos, Merchandise Designs and more….
Browse and purchase his fantastic Cryptid and dark art creations mentioned in this episode: http://mistersamshearon.bigcartel.com/ and RedBubble.com
His website: Mister-Sam.com
Also find him on Facebook, Twitter, Instagram and Tumblr
Email Sam at info@mister-sam.com
Here are also a couple interesting article's Sam found for us pertaining to the subject matter: Quantum Tunneling and the Meganeura (a genus of extinct insects from the Carboniferous period, which resembled and are related to the present-day dragonflies)
If you love iNTO THE FRAY and want more content….join us over on Patreon! Get instant access to over 100 bonus audio and video episodes, physical rewards like stickers and signed books, watch (and join in the discussion!) Shannon interview guests live on video, private RSS feed, Patron-only Discord room and FB group, and more.
Click HERE to check out the various pledge levels.

You can also contact me HERE or via email, shannon@intothefrayradio.com
Get your iTF STICKERS….HERE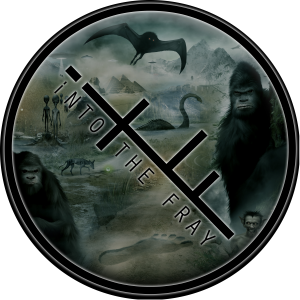 Follow iTF:
Facebook: Join the interactive group and visit the official iTF page 
Twitter: Official iTF and  Shannon's personal account
Shannon's Instagram
Website artwork and logo for iNTO THE FRAY, by Mister-Sam Shearon
Featured music with permission from Tanek, and Electus Official